Production Mode Line!
For the last few months, I've been devoting most of my time to moving into a new studio that I'm sharing with designer Gerry Quinton of Morua Designs, and planning the launch of my line, Production Mode.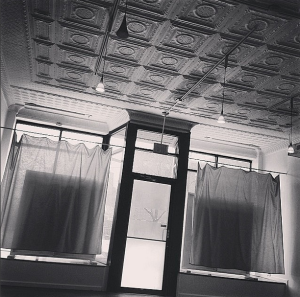 New studio/showroom in Logan Square
Production Mode  is a collaborative endeavor, drawing on the strengths of the art, design, and activist community here in Chicago and beyond. The first collection, a capsule line of screenprinted leather pieces which will launch in August 2014, draws on the illustrations of Paula Wilson and the cutting and sewing skills of fair trade group Intercrafts Peru. Paula's work was  designed as part of her residency at Cannonball Miami, using the facilities of Turn Based Press.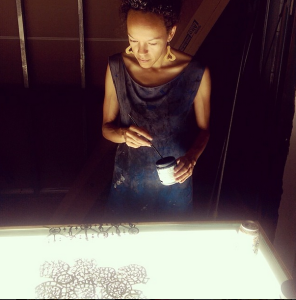 Paula Wilson preparing screens for printing the leather for the Production Mode launch
The collection will be made of vegetable tanned leather rather than the chrome tanned leather typically used in the fashion industry. Although the vegetable tanning process takes much longer than chrome tanning (3-5 weeks versus a few days) and is thus typically more expensive, vegetable tanning is an eco-friendly process using natural tannins derived from tree barks whereas chrome tanning is a highly toxic and water intensive process which produces waste that can develop into carcinogenic chromium and contaminate water supplies, especially when leather tanneries are located in countries with lax environmental regulations.  In addition, vegetable tanned is more easily and safely recycled or disposed of than chrome tanned leather.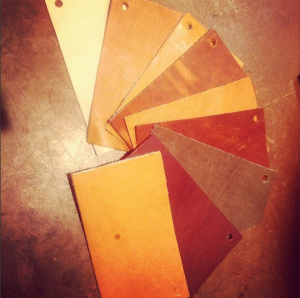 Vegetable tanned leather swatches
 Also important to me is who made the leather and where did it come from? The leather for the collection is from Horween, a local, unionized tannery known for its high quality that has been processing leather here in Chicago  since 1905. Horween receives the leather from horses raised in France.  Ethical concerns aside, the fact that vegetable tanned leather is gorgeous and soaks up ink beautifully was not lost of me.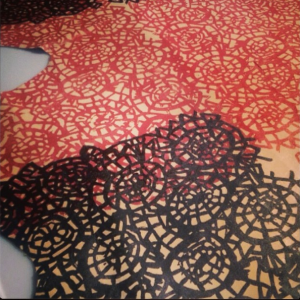 Leather printed by Paula Wilson and ready for sampling
Currently I'm sketching, making patterns, and sewing samples of a men's jacket, a woman's jacket, a handbag, cuff, and necklace for the launch collection.Next I'll bring samples to Lima and work with an expert leatherworker there that I am connecting to via my friends at Intercrafts Peru, with whom I worked this past January on a product design job funded by the fair trade brand SERRV.
Once launched, the collection will sell for only 30 days, and will be sold prior to manufacture. That way I know exactly how many raw materials to buy and how many items to manufacture. Once items are cut and sewn in Lima, and inspected by me here in Chicago, I will ship items to customers. This business model is a win on many fronts. I can offer high quality, limited edition, artisanal products at a much more competitive price, while still paying suppliers and contractors living wages. Additionally, I will manufacture only what is sold, meaning that there is little to no waste ecologically or financially. This model allows me to take greater design risks and to build more direct relationships with customers.
Stay tuned for info on the line as it develops and the upcoming launch late this summer!