Past Perfect ~ Uniforms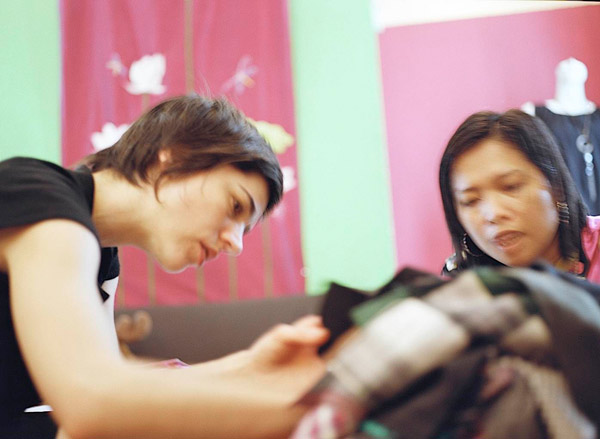 In the summer of 2012, I contacted a group of friends and colleagues to participate in the second installment of my fashion/art project, Past Perfect: Uniform. In the winter of 2012 and in early 2013, I had the uniforms produced either by tailors in Ho Chi Minh City, Vietnam, or by myself here in Chicago.
Below is an excerpt from the original email that I sent to participants:
I will work with each participant to design and produce a custom garment or accessory, in this case a uniform. For some, the uniform might be quite functional and related to the physical demands of the work/activities that you do each day. Perhaps you are/have been mandated to wear a uniform, and you'd like to react in some way to that experience. The uniform might also speak more to the informal, unspoken uniform that exist within a given profession or subculture, and the desire to stand out, blend in, or transform to suit the different aspects of your life. Or, it might speak to the desire to streamline your life. Alternately, it might be inspired by a certain uniform archetype that speaks to you—be it a homage, reaction, or reappropriation. These suggestions are by no means prescriptive. What interests me is each participant's individual ideas about and definitions of uniform.
Why uniforms?
I chose the theme of uniforms because the subject allows me ample opportunity to explore the social meaning of fashion and draws on my dual career paths in the world of the art/fashion and labor organizing/activism.
Uniforms have a rich history to be mined. From a functional and aesthetic standpoint, uniforms are built to work and built to last. Nonetheless, they often include colorful and beautiful details–epaulettes, badges, decorative braid, bold buttons, or sharp hats. On a psychological level, uniforms are compelling because they often used to classify, identify, segregate, and/or control groups of people. But while uniforms are often used to create hierarchies, they can also be used to erase differences and equalize individuals. Then there is the great tradition of activists and artists who appropriate and subvert the institutional symbols–the conformity, control, and power that uniforms represent. Finally, while the description above focuses mainly on traditional ideas of uniforms, most occupations and subcultures have informal, unspoken uniforms. How we choose to subvert, personalize, or conform to these dictates is rich territory for exploration.
________________________________________________________________
For the runway and gallery show, Annemarie Strassel, professor in the Fashion Studies Department at Columbia College and media strategist with the union of hospitality workers UNITE HERE, wrote an essay entitled: Mode of Production: Reclaiming the Revolutionary Potential of the Uniform. Read it here.
UNIFORM PARTICIPANTS
---